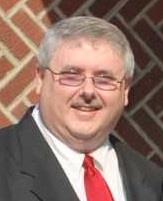 Phone: 304-235-2266 Ext. 5310
Email:
Degrees and Certifications:
Mr.

Jeffrey Reynolds

Mr. Reynolds, a member of Tug Valley's Faculty during the school's earliest years, has returned to once again be a full-time faculty member teaching our Option Pathway Program.

Mr. Reynolds is a native of Mingo County, having been born here and was raised in the community of Belo. He is a graduate of Lenore High School. Mr. Reynolds holds an Associates Degree in General Studies from Southern West Virginia Community College, and a Bachelors in Education grades 7 through 12 in Social Studies from Marshall University. He also has a Masters Degree in Educational Administration in Grades K through 12 from Marshall University as well. He holds an Advanced Credential in Option Pathway from the West Virginia Department of Education.

While at SWVCC, Mr. Reynolds served as President of the Student Body and served on the school's Administrative Council. He also served as the College's student representative to the West Virginia State Board of Regents. He also served as a Frasure-Singleton Program Intern to the West Virginia House of Delegates from Southern.

Mr. Reynolds is in his 31st year in the Mingo County School system. He began his career at Tug Valley High School teaching Special Education for 1/2 year before moving on to teach Social Studies at the school for the next 8 and a half years. He has been Assistant Principal at Tug Valley High and Williamson High. He also has served as Principal of Dingess Elementary and Williamson High School. He has also served as Athletic Director at Tug Valley High School.

A trained Advanced Placement Teacher in the areas of Comparative Government, Economics and United States History, Mr. Reynolds has twice been a co-presenter at the National Advanced Placement Conferences in Orlando, Florida and Los Angeles, California for The College Board.

Mr. Reynolds has served as Sunday School Superintendent for 32 years at the Little Dove United Baptist Church of Belo, WV. where he is a member, Deacon and Church Officer. He has served as the church pianist there for the last 41 years and is the pianist and Bass Singer for the Little Dove Quartet. Mr. Reynolds serves on the Board of Directors of two local non-profits, the S.T.O.P Coalition and the Mingo County Family Resource Network. He also is a past Sports Editor of the Williamson Daily News and a former President of the AFT-Mingo Local.

Mr. Reynolds happily married to his wife Karen Reynolds, a retired teaching veteran of 33 years in Mingo County Schools.