Return to Headlines
8 Miners make All-Cardinal Conference team
8 Miners make All-Cardinal Conference team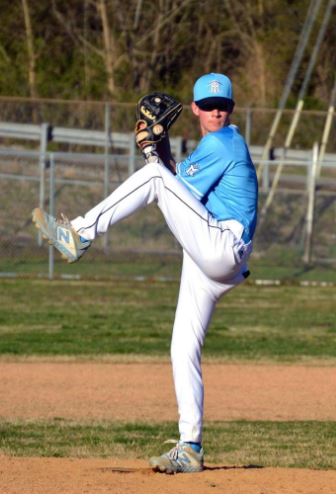 RED JACKET - The Mingo Central Miners were well recognized on the All-Cardinal Conference Baseball Team that was released on Friday afternoon as eight different Miners were named to the squad.
Alice Lloyd commit Andrew Allen was named to the first team for the second straight season after he had strong senior campaign.
Allen played shortstop for the past three seasons for the Miners and was their ace on the mound as he went 5-1 during his senior season with a 1.69 ERA and 49 strikeouts with 22 walks in 53 innings pitched.
He pitched Mingo Central to their first ever victory over Logan beating the Wildcats 2-1 on the road in the opening game of sectional play.
He also hit .347 at the plate with four doubles, two triples, seven RBI, 12 stolen bases and 20 runs scored.
Landing on the second team was senior first baseman Lance Lester and a pair of youngsters in sophomore Daylin "Day Day" Goad and freshman Ashton Deskins.
Lester has been as steady as it gets defensively the past three seasons for Mingo Central coach Logan Lester and he had a solid senior season at the plate hitting .329 average, five doubles and 10 RBIs.
Goad made a name for himself last fall with his performance on the gridiron but he proved he is no one-trick pony as he led the Miners in extra-base-hits. He hit .353 on the year with seven doubles, one triple, one home run, 13 RBIs, and 19 runs scored.
Deskins was the top run-producer for Central in his first season at the high school level as he drove in a team high 17 runs with a .355 average and also led the team with a .512 on base percentage. He only struck out 14 times all year and drew 17 walks.
Coming in on the honorable mention list for the Miners was senior Jace Dotson, sophomore Isa Scales, junior Levi Davis, and freshman Tyler Slone.
Dotson hit .253 this season but came up clutch more times than not as he drove in 10 runs and scored 15 of his own. He also stole 15 bases and was only thrown out three times.
Scales plays one of the top defensive centerfielders in the entire conference as he can cover as much ground as anybody and has a strong enough arm to get the job down. He hit .250 for coach Lester this past year but had a .400 OBP, scored 17 runs, and stole 17 bases.
Davis was the DH for Central and hit the ball hard more times than he did not as he finished with a .329 batting average with 11 runs knocked in in only 77 plate appearances.
Slone rounded out the squad for the Miners and he earned a spot for his defensive play behind at the backstop during his freshman season. He became a wall behind the plate for coach Lester and only committed 2 errors all season long to finish with a .984 fielding percentage.
Mingo Central finished with double-digit wins for the first time in several years as they went 10-18, while also picking up a Cardinal Conference win over Wayne 10-9 during the season, and upset Logan 2-1 in the sectional tournament.
Jarrid McCormick is a sports reporter for the Williamson Daily News. He can be reached by email at jmccormick@HDMediaLLC.com.