Return to Headlines
Entre-Ed program gives students experiences in commerce
Entre-Ed program gives students experiences in commerce
By Bruce Justice News Editor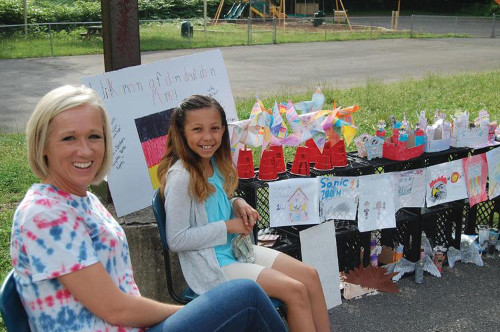 Whether students were manning booths and providing services like face-painting or simply selling customers commodities like homemade freeze pops and blow bubbles or even freshly-squeezed lemonade, last Friday, Matewan PK-8 was open for business.
The on-site event was the result of the school's participation in the National Consortium for Entrepreneurship Education (Entre-Ed) program which brings private enterprise education to students in West Virginia, Ohio, Kentucky, Tennessee and Virginia. Officials said Entre-Ed is funded through an Appalachian Regional Commission (ARC) POWER Grant.
The program, known as America's Entrepreneurial Schools and Colleges (AESC), "creates a hub of entrepreneurship" that ultimately has a long-term impact on the local communities in which it is implemented, officials said.
Toi Hershman, regional coordinator for Entre-Ed, said the program provides entrepreneur education to every student at a participating school during a designated school year.
"Matewan worked hard to achieve this award," Hershman said. "It was such an exciting day watching students take pride in their work and consider the possibility of becoming an entrepreneur. Every student I spoke with knew what entrepreneurship meant and expressed enthusiasm about his/her part in in making the day a success."
Hershman said each K-12 school that completes the program receives a designation as one of America's Entrepreneurial Schools and is awarded and recognized for their achievements.
School officials said Matewan PK-8 was officially awarded its designation of being an America's Entrepreneurial School on May 29 by Entre-Ed, which was closely followed by the school's first entrepreneurship fair on Friday.
Barbara Fields, the school's academic coach, said the event was a culmination of several weeks of preparation, beginning with the school's teachers undergoing professional development training in January.
"The fair brought real-world connection and rigor to our state standards," Fields said. "The students in K-8 were required to design a business plan, just as someone would have to do in the real world."
Fields said the business plan required the students to estimate a setup cost, describe whether their individual business would be in relation to goods or a service, provide a business name and come up with an effective sales pitch.
She said each grade level had various products or services to sell and/or showcase to the public, individually determining what products or services would be sold.
The students also submitted a budget to the school's community college partner — Southern West Virginia Community and Technical College — that additionally provided startup funds via its partnership with Entre-Ed.
"Some teachers even had their students apply for a job at someone else's business or interview for jobs at their own," Fields said. "This project really sparked the interest of our students. So much so, they are already coming up with ideas for the next entrepreneurship fair."
Fields said, in her mind at least, last week's inaugural event was a great learning experience and represents one on which the school's students can build in the future.
She said the school is planning to hold two fairs next school year, with the first scheduled for November and the second in May.